Passwords Generator.
The passwords generator features
The passwords generator allows to :
Generate passwords according to generation policy rules; define the charset to use during the generation and the minimum number of characters of each charset.
Define the size of the generated passwords
Generate random passwords according to the specified constraints
Directly copy the generated passwords in the passwords fields without displaying the passwords.
Remember where the passwords have been copied (destination URLs).
Starting the passwors generator
The main window of the FWSSO passwords generator can be sdisplayed using:
The tool->FWSSO->generate password menu.
The contextual menu inside a password field in an HTML page.
In the site configuration site window, in the credentials tab.
How to use the passwords generator
In this example, the goal is to renew the password of a delicious.com account with a more robust password compatible with the password requirement of delicious.com (only [a-z], [A-Z] and [0-9] characters). The site delicious.com was already captured, and an account already exists with a not-enough robust password. Here is the very detailed step-by-step process to generate a new password, to confirm it in the change password page of delicious.com and to reflect modification in the site credentials.
Step 1: access to the "change password form" of delicious.com
Direct access to the delicious.com account using the SSOList menu
In the "Settings" section, use the "Change password" link to open the renew password form.
Step 2: copy the current password in the old password field.
Open the configuration site window and select the delicious.com site.
Click on the credentials tab
Select the button to copy the current password in the clipboard
Then paste the copied password in the old password field.
Step 3: generate a new password
Open the generator in using the contextual menu of the new password field, or in using the "Tools->FireWebSSO" menu.
Select the appropriate options in the "Password Policy": [a-z][A-Z][0-9] no extra characters.
Start the generation of passwords with a size of 12 characters.
Fill the password slots with "Push to empty slot" button. You may only one slot as you need only one password.
Step 4: copy the generated password
Use the contextual menu inside the new password field to select the first slot password.
Use the same contextual menu inside the confirmed password field; note that the slot 1 indicates that the password was used for the current URL.
You can now validate the form.
If you look at the Generator window, the destination URL is recorded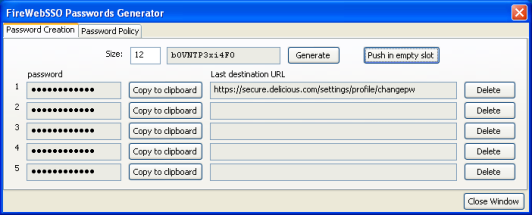 Step 5: updating the site configuration.
In the sites configuration window, select the delicious.com entry.
Use the button to open the password menu.
Select the slot 1 password (the URL information indicates the last usage of the password). And then Apply the configuration.